Below are six great options to consider when figuring out how to finance your kitchen remodel.
How To Finance Kitchen Remodel
Choosing a financing option for a kitchen remodel should always depend on how extensive the project will be. For example, if you are simply adding a backsplash, you may choose to put the total cost on your credit card. However, if you wish to remodel your entire kitchen area, it's suggested to look into one of the financing options below.
Option 1. Home Equity Loan
A home equity loan will require you to put up your home as collateral. Generally, you will receive the funds for your project in a lump sum. You will eventually pay back the total amount by the month.
Option 2. Personal Loans
Taking out a personal loan is a quick and easy way to take out any home improvement loan. The amounts of these loans can range from $1,000-$50,000-plus. Oftentimes, most lenders will offer plenty of time to back pay this loan. When you choose a personal loan, you will end up paying a lower interest rate than you would've paid with a credit card.
Option 3. Credit Cards
If it won't be an issue paying back the money quickly for a smaller remodel project, consider using a credit card. Just make sure to make more than the minimum payment each month until the costs are completely paid off.
Option 4. Federal Programs
Offered by the U.S. Department of Housing and Urban Development, the Section 203(k) program allows homeowners to take out a new mortgage or refinance their current one. You can roll the cost of the renovations into the loan. There are limits on what these funds can be used for, but bathroom and kitchen remodels are typically covered.
Option 5. Cash-Out Refinance
Cash-out finance is another popular way to pay for a kitchen remodel. Learn everything you need to about this option right here.
Option 6. HELOC
A home equity line of credit (HELOC) will allow homeowners to use the equity in your loan. Homeowners may borrow a small amount of money at a time from their mortgage lender, all the way up to the approved amount. You will then be free to borrow once again after you've paid a portion of the loan back.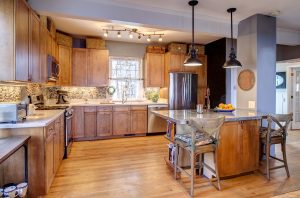 Kitchen Remodel Budget
Use this list to help figure out your budget ahead of time:
❒ Designer fees.
❒ Installation costs.
❒ Flooring.
❒ Lighting.
❒ Countertops.
❒ Cabinetry.
❒ Appliances.
❒ Walls/Ceilings.
❒ Plumbing.
❒ Doors.
❒ Faucets.
❒ Windows.
Typically, installation, appliances and cabinetry will account for nearly half of the total cost. The experts always suggest leaving around one percent of your budget untouched for any unexpected costs that could arise. Most designers will charge between $100-$200 per hour. You can always change the flooring, lighting or cabinetry styles in an effort to save money.
How Much Does A Kitchen Remodel Cost In Arizona?
The average kitchen remodel costs $25,438 in Arizona. Prices will range from $13,291-$37,607, according to HomeAdvisor. Let's take a look at some factors that can impact the cost of this project
You can expect to pay the following costs based on the size of the kitchen:
Small Kitchen (less than 70 square feet): $5,000-$20,000.
Medium Kitchen (between 100-150 square feet): $15,000-$40,000.
Large Kitchen (200+ square feet): $30,000-$60,000.
The overall size of the kitchen is one of the biggest factors that can influence the cost of the remodel. For homeowners with a smaller kitchen, the price tag can be as low as $5,000, in some cases. Larger kitchens can cost upward of $60,000 for a full remodel.
The professionals suggest homeowners begin with a lower budget that features some wiggle room. Consider what you can afford and what is better off as a DIY project. Many homeowners nowadays wish to keep their remodels green, meaning LED lighting will be used. Others may wish to maximize storage space, so pull-out shelves and/or tiered racks are valued. Smaller appliances are environmentally-friendly and can save space.
Kitchen Remodel Estimates
The first step toward coming up with a budget is measuring your kitchen area. Remodels generally cost $75-$200 per square foot. Industry experts suggest spending 5-15 percent of your home's total value on a full kitchen remodel. For example, aim to spend $30,000 on your remodel if your home is currently valued at $300,000.